Passion and Compassion
You don't have to choose one or the other. A way of looking at this is:


Passion
∞
Compassion

The opposites are complementary and they work together. I often use this symbol
∞
to refer to the opposites dynamically playing with each other.

I got this picture of the figure-8, the infinity sign, by watching meditators as they talk about their experiences. When people come for instruction, I like to ask them what they have been experiencing and then listen as they talk about their lives. One of the symbols I see people make with their hands as they describe their lives and what they are integrating is this lazy-8. While talking, they just spontaneously make the symbol as they talk with their hands. Back in 1968, I read
The Silent Language
, by Edward Hall, and I started noticing the hand gestures, the sign language that goes with everyday speech. Later Ed became a teacher of mine and helped me develop my thinking about meditation as a process of becoming more finely adapted to your own culture, and to your soul's culture.

In Instinctive Meditation, the approach is to savor whatever passions arise in your being during meditation. Whatever love, longing, adoration, anger, desire, lust, sorrow you feel. The passions tend to fluctuate: they come on in a wave, surge through you, then pass, leaving you spent or tingling with energy.

The techniques you develop in Instinctive Meditation allow you to create your own Yoga of Passions, in which you combine the fire of your passions with the balance of awareness and serenity.


Syzygy = The Yoga of Harmonizing Opposites

We often use the word syzygy, which means, "to join together, to bring the opposites into alignment." It also means marriage (in the sense of the union of opposites).


All the y's in
sygygy
(link to the American Heritage Dictionary) take some getting used to. I think it took me weeks to let my tongue wrap itself around the word. The y's and the yg in syzygy are from the same root as give us the word
yoga
. Syzygy is a good word to know and gets lots of points in Scrabble.

Householders – meaning anyone who is not a monk or nun – need all the passion they can, and need to be centered in their passion, which is the fire that illumines from within.

People usually think that their passions need to be dialed down, but this is rarely the case. What is needed is to add meditation, and then you don't need to exercise constraint. The meditation adds the needed serenity-in-motion, so you can go for it after meditation with awareness, skill, and liveliness. It's much easier to add relaxation than to try to manipulate the passions directly.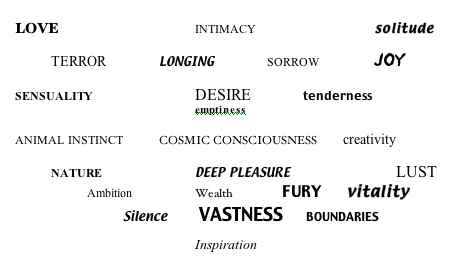 Your Ruling Passions, Emotions
The basic emotions are often listed as:


fear

anger

joy

sadness

disgust

interest

There are huge, raging debates about what to include. Love is considered to be a much more complex state than a simple emotion.

Here is quite a list:


abasement

acceptance

adoration

adventurous

affection

agreeable

aggression

agony

alarm

amazement

ambivalence

amusement

anger

anguish

animosity

annoyance

antagonism

anticipation

antipathy

anxiety

apathy

appalled

appetite

apprehension

approbation

approval

ardor

arousal

assertive

astonishment

attentive

avarice

averse

avid

awe

balky

bashful

bewildered

bitter

bliss

boastful

bold

boredom

broad-mindedness

calm

capricious

captious

careless

caring

caution

censorious

cheerful

cockiness

compassion

complacency

conceit

concern

confusion

consternation

contempt

content

contrary

cooperative

cranky

critical

curiosity

cynical

daring

daunted

decisive

defiance

dejection

delectation

delight

depression

desire

despair

desperation

despise

despondent

determination

detestation

devotion

diffidence

disagreeable

disappointment

discomposure

disconcerted

discontent

discouragement

disdain

disgust

disheartened

disinclination

disinterest

dismay

disobedience

displeasure

disquieted

dissatisfaction

distaste

distress

distrust

doubt

dread

eager

ecstasy

effrontery

egocentrism

egoism

elation

embarrassment

empty

enjoyment

enmity

enthusiasm

envy

euphoria

exasperation

expectancy

fault-finding

fear

fervor

foolhardy

frenzied

fretful

forward

froward

frustration

fury

gaiety

gall

generosity

glad

glee

gloom

greed

grief

grouchy

guilt

happiness

hatred

haughty

helplessness

hesitancy

homesickness

honor

hope

hopelessness

horror

hostility

humiliation

humility

impassiveness

impatience

impudence

impulsive

indecision

indifference

indignation

inhospitable

insecurity

insolence

interest

intolerance

irresolution

irritability

irritation

jealousy

jocular

jovial

joy

lasciviousness

lethargy

liberality

lighthearted

loathing

lonely

love

lust

malice

malignity

meek

melancholy

merry

mirthful

misanthropy

miserable

modesty

mortification

mysoginic

mysoginism

narcissism

nervous

nosiness

nostalgia

obedience

obstinate

offense

optimism

outrage

pain

panic

paranoia

partiality

passion

passivity

patience

peaceful

peevish

penitent

pensive

perplexity

perturbed

perverse

pessimism

petulance

pique

placidity

playful

pleasure

possessive

precocious

prejudice

pride

puzzled

querulous

quiet pleasure

radical

rage

rancor

rapture

rash

rebellious

receptive

reckless

refractory

regret

rejection

reluctance

remorse

repentant

repugnance

resentment

reserved

resignation

resolute

restive

restlessness

reverence

revulsion

sadness

sarcasm

satisfaction

savage

scorn

self-conscious

self-control

self-deprecation

self-destructive

self-reproach

sensitivity

serenity

shaky

shame

shock

shy

skepticism

sociable

solicitude

sorrow

spite

spontaneity

startled

stoic

stubborn

submissive

suicidal

sunny

surprise

surrender

suspicion

sympathy

tension

terror

thoughtful

timid

tolerance

tranquility

trepidation

triumph

troubled

trust

umbrage

unassertive

uncertainty

uneasiness

unfriendly

unhappy

upset

vanity

vehemence

vengeful

venturesome

vexation

vigilance

violation

wariness

warmhearted

watchful

wayward

woeful

wonder

worry

worship

worthlessness

wretched

zeal